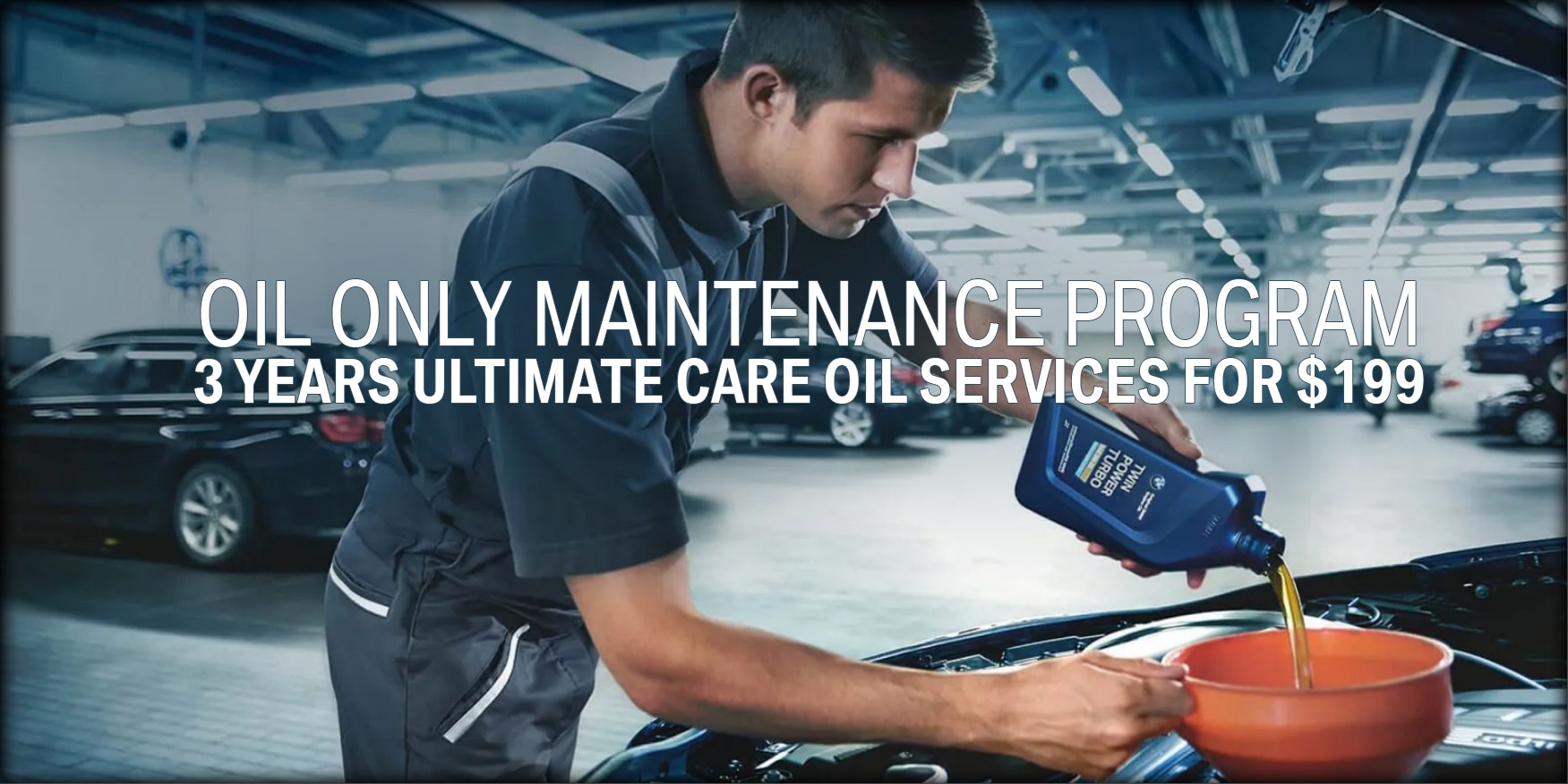 New "Oil Only" Maintenance Program - 3 Year Ultimate Care Oil Services for $199!*
Discover the all-new 3 Year Ultimate Care Oil Services program for $199! This is a new addition to our existing Ultimate Care+ offerings to help you keep your BMW running like new!
BMW Ultimate Care Oil Services Details
Is your BMW older than 60 months, or does it have 60,000 miles? Then the Ultimate Care Oil Services program is right for you!
Just pay $199 one time, and you'll receive 3 years of oil service (oil and filter). This program is fully transferable, so coverage stays on the vehicle even if you decide to sell it. Once the 3 years are up, you can purchase this package again as many times as you need throughout the life of your vehicle.
Is your BMW vehicle already currently covered under Ultimate Care+ 2, Ultimate Care+43, or Ultimate Care+ 4? That's alright. You can still enroll in BMW Ultimate Care Oil Services 6 months prior th the expiration of your current coverage. Your coverage will not overlap, and the oil only coverage will begin after your Ultimate Care+ coverage expires.
Visit Our BMW Service Center Today
Would you like to sign up for the BMW Ultimate Care Oil Services program? Contact our BMW service department, or visit our BMW service department to get started today! 
* The BMW Ultimate Care Oil Services plan includes unlimited oil and oil filter changes for three years for $199.00 plus taxes and disposal fees where applicable. Unlimited oil services included are based upon the associated BMW vehicle Condition Based Service (CBS) system. Available for all BMW vehicles that have reached 60 months or 60,000 miles and have no current Ultimate Care+ coverage. Plan is available for purchase once BMW vehicle has reached 54 months and has current BMW Ultimate Care Scheduled or BMW Ultimate Care+2 coverage. All work is carried out by BMW Trained Technicians using Original BMW Parts, which come with a two-year unlimited mileage limited warranty. Warranty repairs do not constitute an extension of the original limited warranty period for the vehicle or a part thereof.